Concerts
The Pageant - St. Louis, Missouri
Saturday April 12, 2003

Well, it finally happened. Mama's Pride has reunited for two shows in St. Louis, Missouri. The first show was held on Saturday, April 12th at The Pageant. A capacity crowd of approximately 1500 fans were on hand. The show started promptly at 8:00 pm with no opening act. The guys looked in great shape and sounded even better.
The group started off the first set with "Missouri Skyline". From there it was one great song after another. About halfway into the set, the group played "Blue Bandana" - a new song from Pat's new CD. Toward the end of the first set, the group slowed it down with an acoustic set of six songs. The set included an oldie - "You've Really Got a Hold On Me", a track from Danny's CD - "Africa" which featured Max Baker's son on drums and Danny's son Tim on guitar. Next up was an unrecorded crowd favorite from back in the day - "Ezrah". To finish out the first set of the night, they played an old Chambers Brothers song - "Funky" and then an extended version of "Long Time". This song featured Pat, Max and Danny on guitar. At the end of the song, Pat and Max were literally on their knees trading licks and trying to out do each other. Pat did a great job playing lead guitar on this song - especially when one remembers when Pat said he would probably never pick up an electric guitar again. (Never say never.) At this point, the crowd was on their feet, giving Mama's Pride a well deserved standing ovation.
After a short ten minute break, Mama's Pride was back to play another set, starting off with "Can I Call You a Cab.". The second set consisted of more Pride favorites, from all three of their albums, plus a couple of more songs from Danny's and Pat's CDs. When introducing "Ole St. Lou", Pat thanked the crowd for stciking with them for all the years, noting that the group would have starved without the support of their fans in St. Louis. At the end of the second set, the crowd gave them another standing ovation and demanded more.
Mama's Pride returned for two encores. The first encore was "Blue Mist", a true Pride classic. They concluded the show with "Parliament" and a rock and roll medley featuring "Johnny B Goode". Mama's Pride played a total of three and a half hours - approximately 1 hour and 45 minutes per set. You can't say that anyone did not get their money's worth.
Throughout the show, it was obvious the entire band was having a great time. Everyone was smiling throughout the songs and joking between songs. It was obvious Max Baker was glad to be back on stage with the group. Danny Liston told me after the show that "it really felt good to be back on stage with everyone". Pat even commented during the show that perhaps they needed to consider doing this every 10 years. Let's hope they don't wait that long to do it again - maybe an annual show or shows - hint, hint.
Pat also announced during the show that they were recording the show for a possible release of a live CD. Since Atlantic Records won't let them release the first two original albums on CD , they decided to capture the songs live. After the show, Pat confirmed that the show was indeed recorded and that they have plans to record the May 3rd show as well. No timeframe for the release of a live CD has been determined. Check back at this site for updated information as it becomes available.
April 12th Set List

FIRST SET

Missouri Skyline
In the Morning
Kind Lovin Woman
Young and Free
Merry-Go-Round
Blue Bandana
Look Away

Acoustic Set

You've Really Got A Hold On Me
Laurie Ann
Africa
Guard Your Heart
Ezrah
Sail On

Funky
Long Time

SECOND SET

Can I Call You A Cab
She's A Stranger to Me Now
Last Call
Maybe
Oh My
Baby I Love You
\Who Gave You the Right
You Can't Fool Yourself
Ole St. Lou
Where Would You Be

ENCORE

Blue Mist
Parliament
Rock and Roll Medley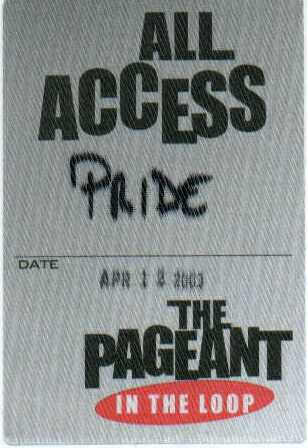 Pictures from the April 12th show are here.

Home| What's New| Information| Discography| Pictures| Lyrics| Message Board| Guestbook| Danny Liston| Pat Liston| Road Crew| Links| E-mail|
Copyright © 1997-2006 Rock Classics