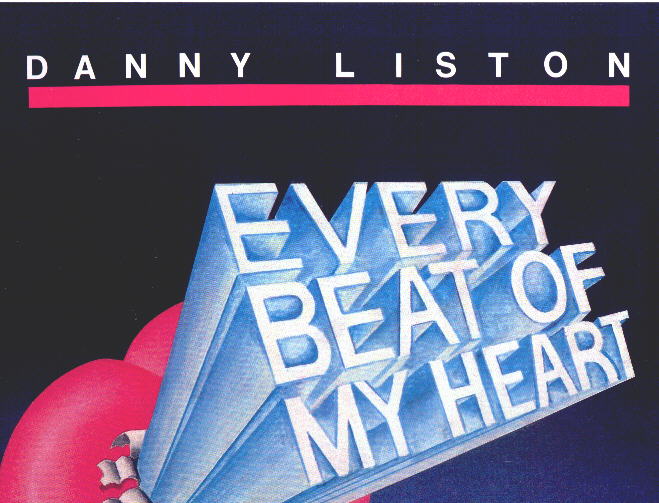 Every Beat of My Heart
Danny has just released vinyl and cassette copies of this EP. See the bottom of this page for ordering information.
Original Record Label: St. Louis Records - 1986
Not currently available on CD.
Personnel: Danny Liston - lead vocals, rhythm guitar; Dave Mouldon - drums; Tim Scholbe - lead guitar; Wayne Givens - bass guitar; Paul Willett - keyboards; Pat Liston - slide guitar on "Feelings Gone Away; Ken Hensley and Pat Liston - background vocals
Produced by: Ken Hensley
Songs:
Every Beat of My Heart
Missing You Forever
Trust in Me
Feelings Gone Away
This is a 4 song EP recorded and released by Danny Liston on a small, local label in St. Louis, Missouri. It was produced by Ken Hensley (formerly of Uriah Heep). Danny sings lead on each of the songs and his brother Pat also appears on the album. All of the songs were written by Danny and are very listenable. My only disappointment is that I wish that it was a full album of material instead of just four songs. The title track received some limited airplay in the St. Louis area.
This EP is very difficult to find. I have never seen one in a record store, so it is difficult to say how much a copy would cost. It pays to have friends in the band, since that is how I got mine.
Copies of the EP are now available on vinyl or cassette tape from Danny. There are approximately 500 copies of this EP available, so order now. Cost is $10.00 which includes shipping and handling. Danny had this to say about the EP: "Actually I think one of the best songs I've written is on that record, it's called "Missing You Forever". For information on how to order the EP, click here.
Home| What's New| Information| Discography| Pictures| Lyrics| Danny| Pat| Road Crew| Guestbook| Links| E-mail|
Copyright © 1997-2005 Rock Classics