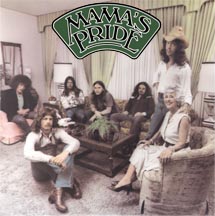 Mama's Pride
Original Record Label: Atco Records - 1975
Released on CD December 2004.
Personnel: Pat Liston - vocals, slide, electric and acoustic guitars, organ, Danny Liston - vocals, electric and acoustic guitars, Kevin Sanders - drums, percussion, back ground vocals, Max Baker - lead electric guitar, 12-string and acoustic guitars, background vocals, Joe Turek - bass, background vocals, Frank Gagliano - keyboards and synthesizer
Songs:
In the Morning 5:10
Who Do You Think You're Foolin 3:28
Blue Mist 4:06
Laurie Ann 4:23
Missouri Skyline 4:08
Ole St. Lou 6:11
Kind Lovin Woman 4:35
Where Would You Be 6:23
Young and Free 3:43
This was Mama's Pride first album and it was excellent. The songs "In the Morning" and "Blue Mist" received the most airplay.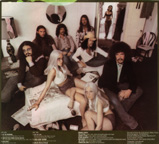 Home| What's New| Information| Discography| Pictures| Lyrics| Danny| Pat| Road Crew| Guestbook| Links| E-mail|
Copyright © 1997-2005 Rock Classics